Lewis Hamilton extended his championship lead to 27 points
over team-mate Nico Rosberg.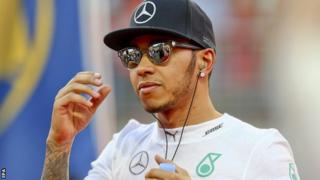 The challenge to Hamilton's Mercedes team from Ferrari is real, of that there can be no doubt, but the world champion looks more than capable of responding for now.
After four races of this season, Hamilton has three victories and a second place and is already more
than a clear win's worth of points ahead of his closest rival.
That position is now held by his team-mate Nico Rosberg after an uncharacteristically error-strewn
race from Ferrari's Sebastian Vettel in Bahrain.
Hamilton's victory in the Gulf kingdom on Sunday rounded off an almost-perfect start to the season for the Englishman, and he returns to Europe to prepare for the next race in Spain in three weeks' time with the satisfaction of a job well done.
Lewis Hamilton says he feels
"strong enough to fight whoever is
coming".