Chelsea v Manchester United
By Babajide Olaitan



Let us take it really easy with the hype. I mean its just football, its all about kicking one round leather for 90 minutes.
Please I must be silly due to the state of ballyhoo, to disrespect the league that have swept income in terms of Tv rights and sponsorship.
Here is upon us again, a derby that can decide a drastic fall or a drastic call of victory, let's make it bigger, the English ' El Classico' or plainly, Blues versus Red[Devils] I didn't say Blue Angels.
Not going to lay any red carpet for the game but to put two stories together;
• Manchester United midfielder
Juan Mata can make Jose Mourinho eat his words against Chelsea. Manchester Evening News
• Oscar: Van Gaal has found his ideal XI… but he should be careful of Chelsea. Goal
Manchester United will do themselves a-top-four good, and also Arsenal will be well pleased if they claim all three points at Stamford Bridge, but, something spectacular about now is Juan Mata returning to Stamford Bridge to show Jose Mourinho his diary after his un-enchanting exit from the London club after ruling as Chelsea's best player for two seasons before the arrival of the special one.

The Spaniard has shown prowess in between Man United's solid form winning four of their last five encounters with the likes of Wayne Rooney, Ashley Young and the rest of the 'gang' that made Man City below par at the 'Theatre of dreams'.
Here comes the 'Nemesis' Cesc Fabregas a hero indeed, he made Chelsea to blush for a slim victory at Loftus Road leaving a 'die-hard' Chris Ramsey's side to deal with a late shocker and a winning goal that kept the Blues at the top; Fabregas was like Mata ( from Barcelona to Chelsea) now he has delievered the most assist in the Premier League as it stands, this brings us to the second story; Oscar's warning.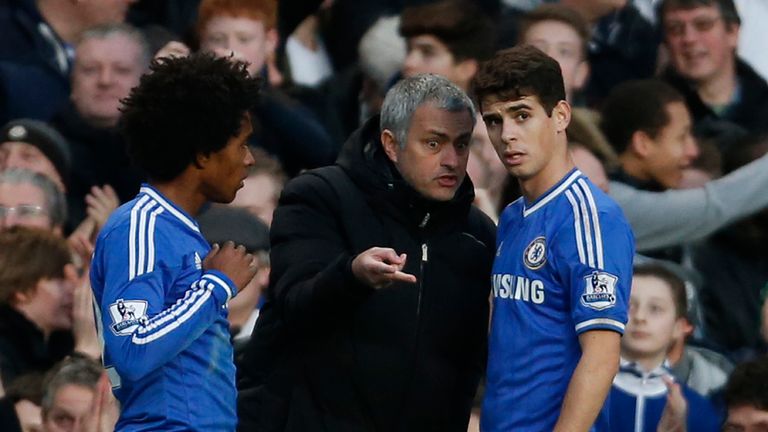 Although the Brazilian as being on gossip spot for Chelsea exit but none has being convincing and the lad has come out to warn Louis Van Gaal and his men. The Brazilian told Goal: "It's not only Fellaini but Mata as well. Herrera, Blind, Rooney, Ashley Young, so many players.
"They certainly improved their performances at this point of the season and we must be careful with all of them. But they must be careful with us as well so big
derbies like this one are always great matches.
"They were struggling in the beginning but they've shown a lot of improvements. They are playing very
well at the moment. One can see that Man United found their ideal starting XI and we will face a tough
opponent this coming weekend."
Nevertheless the game is open to both sides till the end of 90 minutes and both sides also need to fight for victory because all is at stake which makes it a cracker.
Who will be the victor? And who the vanquish?