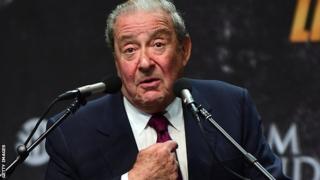 Ticketing issues still looms the bout which is the biggest this year so far and promoter Bob Arum is yet to come out with a convincing explanation.
The MGM Grand holds 16,500 but only about 1,000 tickets are expected to be made available to the wider public.
Contracts with the MGM Grand remain unsigned, while tickets are also not on sale for other venues
across Las Vegas.
Bob Arum is the
promoter of
Philippines great
Manny Pacquiao,
currently the WBO
welterweight
champion
Arum cut a news conference short on Monday before questions could be asked.
Meanwhile, it was announced on Tuesday that Kenny Bayless, who has refereed many contests involving Mayweather and Pacquiao, will be the third man in the ring on fight night.
Bayless refereed his first world title fight in 1994 and is widely regarded as one of the best in the business.
The judges will be Burt Clements, Dave Moretti and Glenn Feldman, whose first world-title fights were in 1989, 1981 and 1997 respectively.
A representative for Arum, who handles Pacquiao only, said technical issues were to blame for the aborted teleconference, but Arum said he was unhappy with the number of journalists on the call.
Another source close to Arum told BBC Sport that, contrary to reports, the ticketing problems have not been caused by Mayweather's camp.
After the MGM takes its share of the tickets, each camp is allocated a percentage and is able to resell
them to brokers at higher prices.
Last week, Pacquiao's manager, Michael Koncz, accused Mayweather's camp of attempting to "manipulate the ticketing".
It has been announced that tickets will eventually be on sale for between $1,500 (£1,000) and $7,500 (£5,040) but those prices have already tripled on the resale market.